Suas genéticas originais são desconhecidas. Alguns dizem que a OG Kush é resultado da mistura da ChemDawg com a Lemon Thai e Pakistani Kush. Outros dizem que é um corte especial da ChemDawg do início dos anos 90. Mesmo o significado do nome OG tem sido debatido; alguns dizem que significa Original Gangster. Entretanto, agora, por causa de suas origens, muitos concordam que significa Ocean Grown.
Algo que não é objeto de debate é a popularidade dessa cannabis feminizada. Das estrelas de filmes de Hollywood a rappers e usuários de cannabis medicinal, a OG Kush é amada por muitos. O traço mais marcante é seu aroma levemente cítrico, forte, úmido e único, quase como cheiro de combustível ou de detergente. O sabor da OG Kush é igualmente forte e úmido, com um longo gosto residual.
A OG Kush é uma variedade de cannabis extremamente forte, sendo listada como uma das favoritas dos usuários mais experientes. Os efeitos são fortes, físicos e mentais. Embora seus efeitos sejam típicos de sativa, a maior parte de sua genética é Indica. O efeito é tão forte e complexo quanto o sabor. Ela leva por volta de 8 semanas para florescer e rende, em média, 65 gramas por planta.
A OG Kush é conhecida por esticar levemente durante o crescimento, porém logo fica coberta por buds na flora. Geralmente, alcança uma altura de 90 a 160cm. Seus camarões são grandes e densos, bolas verde-limão cobertas em resina. Há muitas razões para a popularidade da OG Kush. Disponível agora na variedade feminizada da Royal Queen Seeds, para que você experimente e veja por si mesmo!
THC:

19%+-

CBD:

Medium

Rendimento Indoor:

425-475gr m2

Rendimento Outdoor:

500-550 grams per plant dried

Altura Indoor:

90 - 160 cm

Altura Outdoor:

180 - 220 cm

Tempo de Floração:

7-9 Weeks

Mês da colheita:

Outubro

Plano de fundo genético:

Chemdawg x Lemon Thai x Pakistani Kush

Tipo:

Sativa: 25% Indica: 75%

Efeito:

Relaxante e saboroso



By C. C. :

(

5

)

The customer has rated the product but has not posted a review.

By J. S. :

(

5

)

The customer has rated the product but has not posted a review.

By A. H. on 23/Jan/2017 :

(

5

)

Title : OG kush
Comment : awesome strain

By D. P. on 19/Jan/2017 :

(

5

)

Title : Extraordinary!
Comment : Grew 2 times under LED''s got very dank and sticky buds. Little less yield but very strong and specific efect 5 stars!

By P. D. on 17/Jan/2017 :

(

5

)

Title : Super Sorte
Comment : Echt geile Sorte, guter Ertrag und super Wirkung

By N. P. on 17/Jan/2017 :

(

2

)

Title : Jonsey
Comment : Great and powerful strain!

By I. K. on 16/Jan/2017 :

(

5

)

Title : Great strain!!
Comment : I like it so much I will reorder for another run!! I love it!

By H. C. on 13/Jan/2017 :

(

5

)

Title : Just amazing.
Comment : Tastes and smells perfect. Easy to grow indoor. Not really in outdoor.

By D. S. on 09/Jan/2017 :

(

5

)

Title : Nice one
Comment : i like the taste !

By C. B. on 05/Jan/2017 :

(

4

)

Title : qualite
Comment : Très satisfait

By L. A. on 22/Dec/2016 :

(

5

)

Title : Og kush
Comment : Grown RQS og kush several times and it's a banger.easy to grow great yeild very strong high.winner all round

By M. B. :

(

5

)

The customer has rated the product but has not posted a review.

By D. R. on 19/Dec/2016 :

(

5

)

Title : La Rolls des seeds!
Comment : Vraiment une super variété. 2 plantes sous cfl et récolté plus au moins 15g par pied. Le gout est parfait, fruité et elle vous envoie sur Mars! ;) Pour moi c est la meilleur que j ai gouté jusqu à présent .De la frappe!!! A Reprendre sans hésiter. Et merci pour le bon :)

By D. P. on 15/Dec/2016 :

(

4

)

Title : O.G kush
Comment : 8 graine sur 10 germe croissance au top ,chui à Flo + 1 mois rien à dire très belle plante bon bud et facile à cultivé je trouve , hâte d'être à la récolte ; ) tchuss je reviendrais posée un petit com pour vous dire le résulta; )

By M. B. on 12/Dec/2016 :

(

5

)

Title : MERAVIGLIA DI SENTORI
Comment : HO PROVATO PER LA PRIMA VOLTA LA O.G. KUSH E DEVO DIRE CHE LA TROVO MERAVIGIOSA, NELLA SEMPLICE COLTIVAZIONE(TERRA), NELLA ROBUSTEZZA, VELOCITà E RESA,INSOMMA HO TROVATO LA MIA PIANTA MADRE




You can't post a review because you are not logged as a customer

Log in / sign up
We do not ship this product to the following countries:
United States, Argentina
CLIENTES QUE COMPRARAM ESSE PRODUTO TAMBÉM COMPRARAM
Original Gangster Kush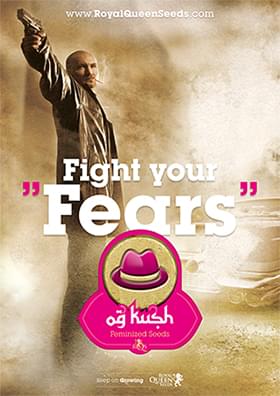 In the world of marijuana, OG Kush is one of the most famous and well-known strains available. In fact, it's considered to be one of the eight ultimate Kush varieties. The precice origin and genetics of OG are a bit hazy. Many people believe that the popular strain was first developed in California, which would offer a fitting explanation for the first half of its name. It was long thought that "OG" meant "original gangster", but the name is now thought to stand for "ocean grown", which would make sense if it was developed on California's coast.
Disclaimer
All cannabis seeds sold at Royal Queen Seeds are solely for personal use. We do not supply seeds to large scale or commercial growers. We reserve the right to refuse sale if we suspect this term is being breached.