Como a maioria das melhores strains de cannabis surgindo atualmente, a Sour Diesel vem direto da Califórnia. É a preferida de muitos cultivadores e usuários. A poderosa genética americana vai crescer bem em indoor em qualquer lugar do mundo; em outdoors, por outro lado, precisam de clima quente, similar à Califórnia ou Espanha.
Ela é principalmente uma strain Sativa, o que é demonstrado tanto na sua estrutura de crescimento quanto nos fortes efeitos ao ser consumida. A planta desenvolve seus buds resinosos e o aroma poderoso em um período de flora de 10 semanas. Isso depois de um período recomendado de 3 a 4 semanas de vega. Essas plantas alcançarão de 100 a 130cm de altura, com um pouco de esticamento no começo da flora.
A Sour Diesel é uma strain super aromática. Sabores e aromas químicos, herbais e amargos exalam dos seus camarões brilhantes. Quando bem cultivada, rende 450-600g m/². A produção é boa em quantidade e qualidade, com buds aromáticos e resinosos. Full Diesel Power!
THC:

19%

CBD:

Medium

Rendimento Indoor:

475 - 525 gr/m2

Rendimento Outdoor:

550 - 600 gr/plant

Altura Indoor:

90 - 160 cm

Altura Outdoor:

150 - 200 cm

Floração:

10 - 11 Semanas

Mês da colheita:

Final de Outubro

Plano de fundo genético:

Original Diesel x (Northern light x Shiva x Hawaiian)

Tipo:

Sa 70% In 30% Ru 0%

Efeito:

Físico, viagem clara

Climate:

Cold



By R. M. on 27/Apr/2017 :

(

5

)

Title : Nice
Comment : Tanto como el sabor y el high que da es de primera. Buena produccion y cresimiento.

By S. K. on 19/Apr/2017 :

(

4

)

Title : Sweet
Comment : Very nice taste and smell...

By T. B. :

(

5

)

The customer has rated the product but has not posted a review.

By M. L. on 03/Apr/2017 :

(

5

)

Title : Mein liebling !
Comment : Meiner Meinung nach die beste Sorte überhaupt die ich bis jetzt probiert habe ! Sie brauch zwar ein wenig länger, Aber dafür gibt es viel Ertrag, und besonders der Geschmack ist einfach ein Traum, Welcher allerdings stark vom Erntezeitpunkt auch abhängt.

By T. O. on 02/Mar/2017 :

(

4

)

Title : tom schweiz
Comment : alle gekeimt vegiphase kurz 600w reichen für 4 pflanzen alles tip top bei Royal quali preis lieferung einfach top thanks royal!!!

By N. P. on 22/Feb/2017 :

(

5

)

Title : super sour diesel
Comment : coltivo piante RSQ ormai da anni e provando questa nuova varietà ho scoperto qualcosa di incredibile!!!sono riuscito a ricavare 50gr per pianta,bud belli densi e resinosi,coltivandola in inverno in indoor le foglie hanno preso un bellissimo color violaceo.il sapore? indescrivibile!!buono,intenso,quando apri il barattolo sembra di stare sulla luna!!! 10+ per questa magnifica varietà

By N. H. on 08/Feb/2017 :

(

5

)

Title : Great Strain
Comment : Nice Grow, no problems at all and great buds

By T. W. on 11/Jan/2017 :

(

5

)

Title : Sour Diesel
Comment : Geiler Geschmack und Effekt

By X. D. on 05/Dec/2016 :

(

5

)

Title : Sour sour
Comment : Yeah super bêle croissance comment on mes des photo:/

By A. F. on 02/Dec/2016 :

(

4

)

Title : Very Spicy
Comment : Great Taste!

By G. B. :

(

3

)

The customer has rated the product but has not posted a review.

By R. D. on 25/Nov/2016 :

(

5

)

Title : Thanks
Comment : Un tout grand merci pour ses quelques graines gratuites .

By R. K. on 07/Nov/2016 :

(

5

)

Title : sour disel
Comment : einer der leckersten sour disel die ich je hatte sehr lecker und schnell gewachsen. Geruch und aussehen original sour disel weiter so RQS sehr gute preisleistung

By J. F. on 28/Oct/2016 :

(

5

)

Title : Sour diesel
Comment : Merci encore à Royal queen seeds pour cette superbe variété. Hâte de la goûter avec impatience. Merci pour cette graine cadeaux.

By D. M. on 26/Aug/2016 :

(

5

)

Title : A
Comment : Super livraison rapide germination 48h et resultats en 3 jours wwooww hate de deguster ce produit




You can't post a review because you are not logged as a customer

Log in / sign up
We do not ship this product to the following countries:
United States, Argentina
CLIENTES QUE COMPRARAM ESSE PRODUTO TAMBÉM COMPRARAM
Sour Diesl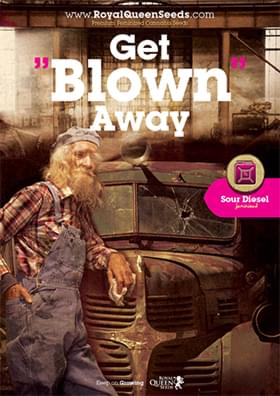 Get blown away with Sour Diesel
The hybrid is also known as Sour D, and it is supposedly a cross between the infamous 91 Chemdawg and a Northern Lights x Super Skunk strain. 91 Chemdawg was originally found in a bag that was sold at a Grateful Dead show, and the strain made its way to the West Coast during the early 90s. Sour Diesel blends the best qualities of old-school Sativas with just the right amount of Afghani Indica to make it a high yielder that is ideal for indoor or outdoor gardens. The finished buds are known for their fact-acting high that has a dreamy quality.
Disclaimer
All cannabis seeds sold at Royal Queen Seeds are solely for personal use. We do not supply seeds to large scale or commercial growers. We reserve the right to refuse sale if we suspect this term is being breached.